All in the Family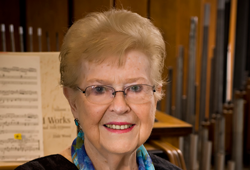 There are two common threads running through the Stofer family: music and Wright State University.

Music was a part of daily life in the Stofer household. Like her late husband, Robert, Wanda Stofer is an accomplished organist. The couple bonded over their love of music early on.

"We just talked music all the time," said Stofer.

Robert and Wanda Stofer passed their love and appreciation for music on to their children.

"When we used to travel, the three kids were in the backseat. Instead of fighting, like kids do in the car, we sang and did music education," Stofer reminisced. "We'd pull up at a gas station and everybody was singing. The windows were open and we had to wait to get gas until we finished."

Robert Stofer designed the Casavant organ in Wright State University's Creative Arts Center and became Wright State's first organ instructor.

"Being in a college situation was a lot of fun. He enjoyed it," Stofer recalled. "He felt so strongly for education?I think that's one of the reasons he was so interested in getting something going at Wright State."

The Stofers' son, Larry, followed in his father's footsteps. And in 2012 he painstakingly refurbished the organ that his father built at Wright State.

"It's a wonderful organ to have for teaching purposes and also for concerts," Stofer said of her husband's creation.

When Robert Stofer was growing up as a boy in Columbus, Indiana, he did not have the money to attend college. Fortunately, he landed a full, four-year scholarship to Wabash College, on the condition that he would be the chapel organist.

Stofer would go on to study at Union Theological Seminary in New York City and earn his doctorate at Columbia University. After serving as organist at the Church of the Covenant in Cleveland, Stofer became organist-choirmaster at Westminster Presbyterian Church in Dayton.

Following Stofer's death in 1978, friends established a scholarship fund at Wright State in his honor. The scholarship honors two of Stofer's great loves: education and music.

To continue to grow the scholarship, Stofer's family and friends have contributed to the fund over the years, and Wanda Stofer has designated Wright State as the beneficiary of a life insurance policy.

"I hope it will be bigger than what it is now when I come to the end of my life," said Stofer. "My sons and my daughter will still keep giving to it. I hope it will do a lot of good in the future and take care of several students."