A Daughter's Love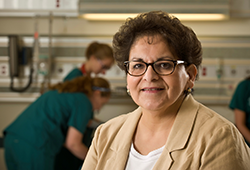 Even though her mother never graduated from high school and her father earned a GED, education was a priority in the Martinez household. "I give a lot of credit to my parents for really valuing the importance of education," says Martinez, who grew up in an all-Hispanic community in San Antonio, Texas.

Martinez's parents, Frank and Anita, expected their children to go to school every day, finish school, and then head off to college. The merits of higher education were so deeply ingrained into her family values that Martinez knew by the time she was in high school that she would go on to complete her Ph.D.

When her father was given the opportunity to continue his career at Wright-Patterson Air Force Base, Martinez stayed with an older brother to finish high school in San Antonio. After graduation, she joined her parents in Dayton to attend college. While her father wanted her to apply to Ohio State, Martinez was too intimidated by the size of OSU and chose to stay closer to her new home. Already interested in nursing, she enrolled at Wright State.

When she entered Wright State, Martinez had no idea that her education would be a series of firsts. In 1978, she was the first Hispanic American to graduate from Wright State with a Bachelor of Science in Nursing. In 1982, she received her master's degree in rehabilitation and community health nursing from Wright State—another first. She then went on to complete her Ph.D. in nursing.

While Martinez is far too modest to think of herself as a trailblazer, she continues to reach out to students and families from underrepresented populations—especially minorities and first-generation college students—to promote the importance of higher education.

Today, Martinez is paying tribute to the people who believed in her the most—her parents—with a scholarship that bears their names.

The Frank and Anita Martinez Hispanic Nursing Scholarship supports Hispanic students who are pursuing a Bachelor of Science in Nursing at Wright State University. While Martinez first established the scholarship in 2003, she has since pledged a portion of her estate to endow the scholarship for future generations.

For Martinez, helping to educate tomorrow's nurses was the perfect tribute to her parents. "If it weren't for them, I wouldn't be where I am today," she explains. "They were so helpful and supportive. They helped me understand that I had more going for me than I realized."

In the years prior to her mother's death, Martinez enjoyed showing her thank-you notes from the scholarship recipients. Through those pieces of paper, Martinez could illustrate to her mother how she and her late husband not only inspired their own children—but an entire generation—to pursue their degrees and follow their dreams.