Helping Students Find Their Passions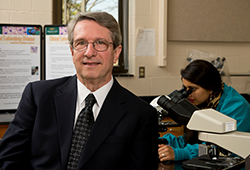 Dale True ('76) didn't have to look far to find one of his great passions in life; he discovered it as a child watching birds. But it took a couple decades and an adult's foresight for him to see how his study of avian behavior could provide a valuable educational experience for college interns.

True's fascination with birds began in his own backyard as a young child as he watched birds swoop in to the birdhouse his father built. Family vacations to Yellowstone National Park only deepened his enthusiasm for the beauty of nature and all creatures great and small.

With his love for wildlife, it seemed only natural that True would pursue a degree in biology when he arrived at Wright State in the early 1970s. But during his junior year, True decided he didn't want to teach biology or go on to graduate school, so he transferred to the medical technology program.

After spending 20 years at private and institutional clinical laboratories, True started his own financial management business. "By running my own business, I was able to make time to fulfill some of those earlier dreams," he says.

One of those dreams was working with animals. True began volunteering at the North Carolina Zoo, first as an exhibit interpreter and later as an assistant to the veterinary team. At the zoo, he learned about Sylvan Heights Bird Park, an avian breeding center that houses the world's largest and most biologically diverse collection of waterfowl.

True set up an internship program for college students at Sylvan Heights—a project that led him back to his alma mater. "I feel very strongly that mentoring and internships are very valuable for undergrads to help them discover their career paths," says the 1976 Wright State alumnus. "It's something that I wished I would have had when I was a student here."

In collaboration with the Department of Biological Sciences, True developed a pathway for Wright State students to spend part of the summer at Sylvan Heights. Evangeline Shank was one of the first two students to intern there. The 2014 graduate says the internship influenced her decision to study avian behavior in graduate school.

"I think experiential learning is critical for all students," Shank explains. "Before I worked at an internship like Sylvan Heights, I had no direction for my future career. Having the opportunity to participate in experiential learning has helped me discover my passion and potential career path."

With the establishment of the Dale Alan True Experiential Learning in Biology Endowment, more students will have the opportunity to find their passions in life. Set up through a combination of a bequest and current gift, the fund will help pay expenses related to experiential learning opportunities both on and off campus.

"I don't want finances to be a barrier to students discovering their career path," True explains. "If that means they can pay for a trip to Sylvan Heights, an internship in the rainforest, or working in the lab for a semester or two so they can advance their career, then that's what I hope my gifting will accomplish."

True also hopes his gift will inspire other alumni to give back. "Sometimes the idea of doing something very specific will encourage someone to donate to a scholarship, whereas something very general may not," he says. "By publicizing what's available and helping people understand what the students actually need, I hope that will motivate people to do something they hadn't even planned to do."