Giving Faculty an Extra Boost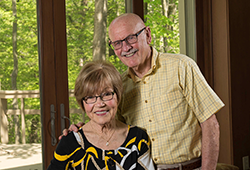 Education has always been a part of Judy Rymer's life. She grew up as the daughter of two educators. Her father, F. Norwood Marquis, served as the first dean of Wright State University's College of Education. Her mother, Trudy, was a kindergarten teacher. As an adult, Judy would go on to have her own successful career as a professor of foreign language education and vice president for advancement at California State University, San Bernardino.

Today, Judy and her husband, Glenn, have returned to their Ohio roots, setting up a bed and breakfast in their Oxford home and giving back to the institutions of higher education that mean the most to them.

At Wright State, they have established the Dean's Fund for College Enrichment to honor the legacy of Judy's father, who joined the university in its earliest days. "It was very exciting for him to be on the ground floor of a new university," Judy recalls.

Norwood Marquis also found that he could easily identify with the typical Wright State student. "In many ways, they reminded him of his own background," Judy explains.

Marquis grew up on a farm outside of a small town of 371 people in Missouri, where he struggled financially to get through school. He completed his college degree thanks to an older brother, who would send him money.

"He's certainly an example of someone whose life was completely changed because of his opportunity for an education," says Judy.

Just as he enjoyed meeting students from modest backgrounds like his, Marquis also developed an affinity for his faculty at Wright State. Known for his easygoing demeanor, Marquis frequently visited with faculty members in their offices and hosted cocktail parties for them in his home.

Since Judy met many of the faculty at these social gatherings and at Wright State's commencement ceremonies, they also factored into the Rymers' decision to make a bequest to the college.

"I'm drawn to students who need special financial assistance," she explains, "but I'm also drawn to the notion that faculty have a lot of good ideas and a lot of energy, but a lot of constraints on their time."

Through both their current gifts and their bequest, the Rymers have created an endowment to support faculty development. They believe that by encouraging faculty to explore their creative ideas, it will enhance the educational experience for students.

"Students are so different now—they're bound by location, time, jobs, family responsibilities. We need a lot of innovation in how we teach these kinds of students," says Judy. "Sometimes it takes a little extra financial boost for faculty members to be able to do that."

Thanks to Judy and Glenn Rymer, faculty in Wright State's College of Education and Human Services will have more opportunities than ever before to expand their horizons. Norwood Marquis would be proud.