Honoring the Legacy of a Loved One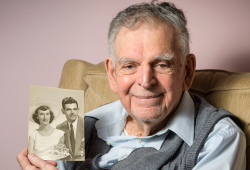 Ed Doria '78 creates social work scholarship in memory of his late wife, Dorothy
Dorothy Doria always had a passion for helping others. It inspired her to come to Wright State University, where she studied social work.
Although Dorothy never pursued a career in social work, she wanted to learn more about the field since she spent many years as a volunteer helping children with learning disabilities. As the mother of a child with a learning disability, Dorothy understood better than anyone the importance of supporting these children and their families.
"She liked to work with young people," said Ed Doria, Dorothy's husband of 59 years. "Her interest was in helping children in similar situations as our daughter."
To honor his wife's memory and her desire to make a difference, Doria established the Edward and Dorothy Doria Endowed Scholarship for students majoring in social work at Wright State. The scholarship will be funded through a charitable gift annuity.
"I wanted to put some portion of my savings into a useful purpose," Doria explained. "I thought a scholarship fund would be one of the most useful purposes where it could be utilized."
It was also important for Doria to give back to Wright State.
"I wanted to donate to Wright State, because my wife and I both graduated from Wright State when we were in our forties," he said. "That was the only degree my wife ever received, and it was my third degree."
Doria earned his master's degree in counseling from Wright State in 1978. Dorothy graduated in 1979, with a bachelor's degree in social work.
Doria believes his wife, who passed away in 2014, would have been proud of his decision to help educate future generations of social workers.
"I think she would be very pleased and happy to know that a portion of our funds are going to scholarships for social work," said Doria. "That was one of her main interests for many years of her life."
The legacy of Dorothy Doria will now live on forever through her scholarship recipients and the lives that they touch as they help children and families around the globe.