Upping the Odds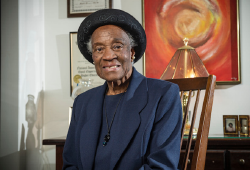 For Gladys Turner Finney, the odds of receiving a college education were slim at best. Born in southeastern Arkansas during the middle of the Great Depression, Finney's parents were tenant farmers with less than a high school education.
"But my parents valued education, and they gave me the gift of education," said Finney.
Her parents enrolled her in a Black Catholic school. Founded in 1889, it was the first Black Catholic school in the state of Arkansas. Finney then attended J.C. Corbin High School, which was on the campus of AM&N College, an historically Black college from which she would later graduate. AM&N College is now the University of Arkansas at Pine Bluff.
Finney continued her education at the Atlanta University School of Social Work, where she earned her master's degree in social work. At school, she learned about a job opening at the Dayton V.A. Medical Center.
Finney was the second African American to work in the social work department at the Dayton V.A. Medical Center, and she later became one of the founding staff members of its hospice care program. Finney's accomplished career in social work also included stints at Dayton Children's and in mental health.
As she reflects on her career, which encompassed nearly four decades, Finney is especially proud of her work with students. She supervised social work students from various universities, including Wright State, as they worked on their practicums. She also taught at Wright State, serving as an adjunct assistant professor of social work from 1970 to 1976.
Years later, she continues to make an impact on the lives of social work students through the Gladys Turner Finney Scholarship.
"So many students nowadays need a little help with their tuition, living expenses, et cetera," said Finney. "A college education is extremely more expensive than when I was in school."
Over the years, Finney has financed her scholarship through gift annuities and an IRA. To continue the scholarship for decades to come, Finney will donate her home to the Wright State University Foundation upon her passing. Proceeds from the sale of her home will be used to fund the scholarship for future generations of Wright State students.
"You do not have to be wealthy. You can start very small and continue to add on to your giving," she explains.
For Finney, the joys and rewards that come from helping others–particularly students–are priceless. Just as she overcame the odds by achieving a college education and a successful career, Finney is increasing the odds so others can go on to accomplish their goals and dreams in life.
"The scholarships have been transformative in the lives of students," says Finney. "I just marvel at the students that I've met. They're so intuitive and exciting. We talk about all kinds of issues."