A Life-Changing Gift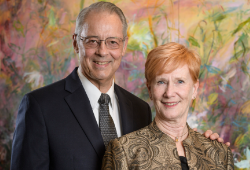 Joyce Rutherford-Donner '82 and Larry Donner create scholarship to help single mothers get through nursing school
The start of Tiffany Spangler's college career was similar to that of most students at Wright State University. She immersed herself in her classes, studied as much as she could, and worked part time to help pay for her tuition and living expenses. But Tiffany's path to graduation would take an unexpected turn when she found out she was pregnant.
With two years of schooling at the Dayton campus under her belt, Tiffany was in a quandary: how would she juggle her nursing classes, work, and being a single mom?
Tiffany quickly realized that she would need to move back in with her parents. With her family living nearly two-and-a-half hours away from the Dayton campus, commuting to and from school would not be an option.
Fortunately for Tiffany, Wright State's Lake Campus was about to launch a nursing program. The Celina campus was only an hour away from the Spangler family home in Oakwood, a small village in Paulding County.
Tiffany took a one-year leave of absence from school after giving birth to her son, Emerson, in July 2016. When she transferred to the Lake Campus and resumed her nursing classes, Tiffany received another life-changing surprise. She had been selected to receive a scholarship-a scholarship specifically tailored to students like her.
In the late 1970s, Joyce Rutherford-Donner found herself in very similar circumstances to what Tiffany was now experiencing, forty years later. A divorced, single mother of two young children, Joyce was struggling with balancing her nursing classes at Wright State, taking care of her family, and bringing in enough money to put food on the table.
"There were many sleepless nights," Joyce recalled. "Those years are really a blur of sleep deprivation and just trying to keep all of these balls in the air all the time. It was a moment-to-moment life."
Despite the overwhelming pressure, Joyce persevered and graduated in 1982 with a Bachelor of Science in Nursing. She went on to a successful career as an administrator for long-term care facilities.
In December 2015, Joyce and her husband, Larry Donner, established the Joyce M. Rutherford-Donner Scholarship to provide tuition, books, and supplies for a nursing major who is also a single parent. Tiffany is the second individual-and the first Lake Campus student-to receive the scholarship.
"I felt like I had been through so much," said Tiffany. "This scholarship was a light at the end of a tunnel."
Thanks to the financial support Tiffany received from the scholarship, she did not have to spend as many hours working as a state tested nursing aide. She was able to focus on her studies and spend more time with her son.
"I felt like I had a chance. The scholarship gave me confidence and hope that I could do this and be successful," Tiffany said. "Words cannot even describe how truly thankful I am. It really changed my life."
In May 2019, Tiffany received her Bachelor of Science in Nursing as a member of the Lake Campus nursing program's first graduating class. Along with her family, Joyce and Larry Donner were by her side at her pinning ceremony and graduation.
"It is as if you are graduating your own child. That's how it feels," Joyce explained. "You're just as proud of them as you are of any of your own kids' accomplishments."
For the Donners, funding a scholarship means so much more than just writing a check. They always take the time to meet their scholarship recipients and their families, and they provide mentoring and emotional support whenever it's needed.
"If you just gave money, you would never know the difference you made in somebody's life," said Joyce. "When you meet your scholarship recipient and their family, you see just how much that person is fighting to be able to better themselves. For us to be able to help them is just wonderful."
To continue their legacy of giving long after they are gone, the Donners have made the Wright State University Foundation the beneficiary of an IRA. This will ensure that their scholarship is funded in perpetuity.
They also hope that their story will inspire others to give. When family and friends ask the Donners about their scholarship, they always emphasize that any gift-regardless of size-can make an impact on the life of a student.
"We make it clear that anything they can do-even a few hundred dollars-could be beneficial for someone," said Larry. "We're trying to encourage support at any level people are capable of."
Joyce likes to share the story of a little boy throwing a starfish back in the ocean. When a man approaches the boy and asks him what he hopes to accomplish with so many starfish still on the beach, the boy replies, "It made a difference to this one."
"You don't know the ripple effect, especially when you're helping parents who have kids. You could impact the lives of an entire family for generations to come," Joyce explained. "It's more of a reward to us than I ever thought it would be. It's uplifting to see those people be able to start a better life than they would have been able to if they hadn't been able to make it through college. I know how important it is, and it makes me feel good to be able to make the load a little lighter for somebody."