Making a Difference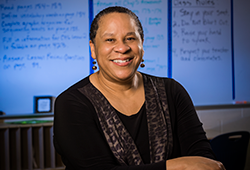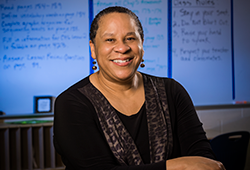 Cynthia Jones '05 will donate her home to fund scholarship for Wright State students
Education has always mattered to Cynthia Jones. Even though neither of her parents graduated from high school, they both instilled in Jones and her eight siblings the importance of education. It is a lesson that she has passed along to her five children, her six grandchildren, and her students at Kemp Elementary School in Dayton.
"Education will always be the key. That will never change," said Jones. "You need to be educated in order to secure a good quality life and a good future for yourself."
Jones will help educate future Wright State University students through a bequest in her estate. The Wright State University Foundation will receive Jones's home upon her death, which will fund a scholarship for students with financial need who are either African American or have a disability.
"I have a special place in my heart for the students with special needs," Jones explained. "And I know Wright State has a higher percentage of students with disabilities than other colleges. That's important to me."
Jones's scholarship will also honor the memory of her mother and grandmother.
"My mom and my grandmother were two of the strongest women that I've ever known," she said. "What my mother and grandmother taught me made a difference. This is something that I can do to keep their legacy going."
The scholarship is also a way to give back to the university that helped Jones when she was a student.
After serving 14 years of active duty in the United States Air Force, Jones came to Wright State as a divorced, single mother to earn her master's degree and become a teacher.
"I wanted to do something that I knew would be good for me and my children," she recalled. "Teaching offered the right schedule for me. I had a passion for it. And I knew it would work well for me as a single parent."
As she was working on her degree, one of Jones's professors recommended her for a scholarship.
"It was such a blessing," she said. "I was so surprised that someone chose me to get this scholarship. I thought that was the greatest thing. From that point on, I knew that I was going to do something to give back."
Transferring her home to Wright State in her will gives Jones the opportunity to make a significant impact without making a large gift of cash.
"People don't think of the assets that they have that they could leave. It doesn't have to be sitting in your bank account. There are other things that you can do," Jones explained. "If what I'm doing as an average school teacher in Dayton Public Schools can make a difference to hundreds, maybe thousands of lives to come, then so can you."
And the legacy of three strong women-Jones, her mother, and her grandmother-will be remembered by future generations of Wright State students.
"I just want to know that my life makes a difference. Many people think one person doesn't make a difference. Well, there are hundreds of stories of just one person making a difference," said Jones. "I feel at peace knowing that there will be students for years to come that will benefit from this one decision that I made. This gift will live on forever."