It's All in the Numbers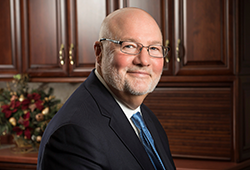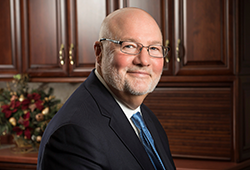 For Bill Pohlman '76, a life insurance policy added up to the perfect planned gift

Bill Pohlman is a numbers guy. He majored in accountancy at Wright State and makes his living as a partner at Pohlman & Talmage CPAs, Inc. When the timing was right to give back to his alma mater, the benefits of making a planned gift just added up.

Rather thank making a cash gift with fewer zeros tacked on to the end than he would like, Pohlman chose to make the Wright State University Foundation the beneficiary of a life insurance policy. In Pohlman's case, the foundation owns the policy and makes the annual premiums. Pohlman then reimburses the foundation for the premiums as a tax-deductible gift.

The leverage a life insurance policy provides is one of the reasons why Pohlman encourages his own clients to think about insurance gifts to the charities they support. "It gives people the flexibility of making a larger gift without donating large sums of cash," he explains.

The life insurance policy will also allow Pohlman's legacy to live on through two of the causes he cares about the most: the Pohlman & Talmage scholarship for Wright State accountancy students and the Wright State University Foundation.

Originally created to help attract up and coming talent to the firm, the Pohlman & Talmage scholarship is an investment that has clearly paid off. Over the years, Pohlman & Talmage has hired numerous Wright State students as interns, and today, they employ six Wright State graduates as full-time employees.

"Talent in our industry is everything. The talent makes us who we are," says Pohlman.
"We see in Wright State students and graduates not only a good academic background, but also a strong work ethic and a desire to learn more. Those are the main qualities that make people successful here in this firm."

After establishing the scholarship, Pohlman became further reengaged with his alma mater while serving as a member, and later chair, of the Wright State University Foundation Board of Trustees.

That experience gave him new insights into the university's efforts to provide the most engaging and positive experience for students. "When you learn about what the university is trying to do," says Pohlman, "you want to see it happen and help make somebody's dreams come true."

"Donating to the Wright State University Foundation is very important for me," he explains. "It's important for donors to remember that there are many ways to work with foundation staff to make a commitment under your terms. The staff are very positive about helping to meet your goals and the foundation's goals all at the same time."