Remembering Wright State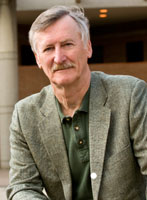 Giving back is something Jerry Sutton ('72 M.S.) has done all his life. So it comes as no surprise that he is giving back to Wright State through two scholarships.

His initial scholarship was in memory of his first wife and benefits non-traditional female students in the Raj Soin College of Business. He continues to fund it with annual gifts.

The second is a scholarship created by a charitable gift annuity, which he funded with appreciated stock while serving on the Wright State University Foundation Board of Trustees. Sutton was instrumental in the university's first Capital Campaign planning and recognized that the Planned Giving option was underutilized at that time. He and his wife led by example, using a planned gift to establish a scholarship benefiting future generations of female electrical engineering students. The gift annuity provides a lifetime income stream that is guaranteed by the Wright State Foundation. Ultimately, it will also fund the scholarship.

"Wright State expanded my horizons," says Sutton, who earned a Master of Science in systems engineering.

He saw the need for more women in the field of engineering firsthand as a member of the federal senior executive corps at Wright-Patterson Air Force Base. A charter and life member of the Wright State University Alumni Association, Sutton is a long-time supporter of Wright State. His generosity will expand the horizons of students for years to come.