The Joy of Giving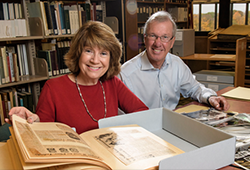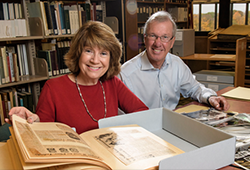 When Ann and Rob Weisgarber first decided to create a scholarship for Wright State University students, they made a planned gift in their estate. It had never crossed their minds to set up the scholarship while they were both still living.
As the Weisgarbers became more involved with their alma mater and began serving on the cabinet for Rise. Shine. The Campaign for Wright State University, they started to have conversations with Wright State staff about making a cash gift so their scholarship could have an immediate impact.
"We could have the fun of meeting the students currently receiving help from our scholarship,"
said Ann, a 1976 graduate of Wright State.
Along with experiencing the joy of supporting Wright State students, the Weisgarbers wanted to set an example and encourage others to give to the Rise. Shine. campaign. The Ann W. and Robert L. Weisgarber College of Liberal Arts Endowed Scholarship was launched for juniors and seniors in the College of Liberal Arts with demonstrated financial need and a minimum 2.5 GPA.
"We didn't want it to just be for the top students," explained Rob, a 1977 Wright State graduate. "Many students are working and going to school at the same time, so their grade point average may suffer a little bit because of their other commitments. We didn't want to eliminate them because of that."
For the Weisgarbers, who live nearly 1,200 miles away in Galveston, Texas, the scholarship has brought them closer to their alma mater and further solidified their connection to Wright State and its students. During their frequent travels to Dayton to visit family and friends, they often take the time to sit down and talk with their scholarship recipients over breakfast, lunch, or a cup of coffee.
"We've gotten so much out of this," said Ann. "Getting to meet these students and listen to them talk about their career plans and seeing how poised these students are just reaffirms our commitment to Wright State."
"It's inspiring to hear how committed they are to getting an education and to learn about some of the difficulties and hardships some of these students have gone through up to now," said Rob. "It's not always easy when you're in school and you don't have a lot of resources. We're glad we're able to help out a couple of students a year in that regard."
To ensure that their scholarship continues long after they are gone, the Weisgarbers have set aside a portion of their estate to fund the scholarship in perpetuity. They encourage anyone who might be thinking about making a planned gift to learn more.
"The process is easy," said Rob. "You just meet with someone in the development office and say, 'This is what I want to do.' You don't have to be skilled in that field, because they'll take the lead and they'll show you all of the options."
Ann emphasized that potential donors should not let the size of their gift deter them from moving forward. All gifts make a difference in the life of a Wright State student. "No one we worked with made us feel like our gift was too small," she explained. "They welcomed whatever we had to give. All gifts are welcome, big and small."
Since establishing their scholarship, the Weisgarbers feel they have received far more in return than their scholarship recipients. "There is nothing quite like the experience of giving a gift to somebody who needs it and appreciates it," said Ann. "The payback is huge. We can't begin to describe how meaningful it is for us. We worked hard for our money, but these students are working even harder."