Never Giving Up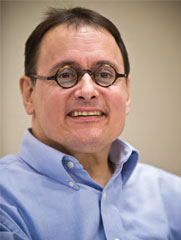 If Norman Vincent Peale hadn't written The Power of Positive Thinking, Eric Bigler probably could have. For Bigler, '83, '87, a Wright State graduate and philanthropist, radiates a positive outlook on life and demonstrates what you can achieve with unlimited perseverance.

When Bigler was 15, he readily admits he had it all. "I had everything going for me in life. I was active in school sports and outdoor activities like riding dirt bikes. I was an avid outdoorsman and enjoyed hunting and fishing," he said. Then it all changed, in an instant.

On a late July day in 1974, Bigler was swimming with friends in a creek near his rural eastern Ohio residence. His first dive was straight out from the makeshift diving board without incident. For his second dive, in what he calls a "moment of carelessness," he dove down instead of out. He knew something was wrong the instant he hit his head on the bottom of the creek bed. "I immediately lost all feeling from the shoulders down," he recalled.

When Bigler arrived at Presbyterian University Hospital in Pittsburgh, doctors said he fractured two bones in his neck and severely damaged his spinal cord. He was paralyzed from the neck down.

After his accident, Bigler had to relearn simple activities such as feeding himself. He hadn't given much thought to college and didn't know about Wright State until his accident. He realized that attending college in a wheelchair would be a major challenge, but he possessed such a positive outlook that he wasn't about to let these circumstances defeat him.

"When I found out how much Wright State does to accommodate students with disabilities, there was really no other choice for college," he said. "Wright State was, and still is, the best university in the country for disabled individuals. The support it provides, through things like the tunnel system, proctors, attendant care, and a community with many others in your position to share experiences with, is fantastic."

Bigler received his B.A. in liberal arts in 1983 and an M.S. in business and industrial management in 1987. After receiving his graduate degree, Bigler worked for some companies in the public and private sector before breaking into the Department of Defense (DOD) field. He worked for two smaller DOD contractors before he found a career position with Computer Science Corporation in 1996. He has been there ever since, testing software for Air Force contracts.

Jeff Vernooy, director of Wright State's Office of Disability Services, has known and respected Bigler for more than 25 years. "When you have an accident like Eric's, the disability can take over. Your body is not working like you want," he explained. "You need to regain your lifestyle by taking control and moving forward with a sense of empowerment which allows you to do great and wonderful things. Eric views his disability as more of a challenge to be overcome than as a handicap. He possesses a positive attitude, persistence, and a love for life that is reflected in everything he does."

And Bigler does a lot. He remains actively involved with Wright State as an alumnus. He is a member of the university's Heritage Society and a member of the Wright State University Foundation Board. He established a scholarship at his high school and also established the Eric P. Bigler Endowed Scholarship as part of his plan to give back to Wright State.

"Starting the scholarship gives me an opportunity for a legacy and the chance to leave a lasting mark with the university," he said. Two scholarships have been awarded so far to help students who meet three key criteria: demonstrated community involvement, drive and commitment, and the ability to overcome adversities. "That reflected my situation when I went to college, and I wanted to reward future students who meet these criteria."

Bigler did not choose to restrict the scholarship to students with disabilities because he believes adversity takes many forms. "Eric has developed a very positive lifestyle, which includes caring for future students," said Vernooy. "He wants to give future students the same opportunities he had."